Annual Report
A look back from AIPLA Immediate Past President, Myra H. McCormack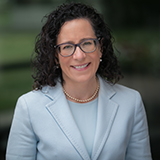 What an incredible year! It was my privilege to serve as your president over the past twelve
months. This organization is amazing, and I am so proud of the work the association has done in the
past year to effect change in the intellectual property arena. At AIPLA, we are determined to be a
change leader and over the past year we've demonstrated that leadership by driving important
progress.

This year we welcomed Director Andrei Iancu, the Under Secretary of Commerce for Intellectual
Property and the Director of the United States Patent and Trademark Office to the Washington DC
area. AIPLA took critical steps to engage the new Director by meeting with him early on to share our
issues of concern and to learn about his initial leadership strategies.

AIPLA has been front and center on issues that matter most to IP practitioners over the past year, and I have seen
the organization take decisive action on a number of important cases that impact a variety of industries in the United
States. To that end, AIPLA submitted briefs in a number of cases including the Federal Circuit's construction of the
on-sale provisions of 35 USC 102 in Helsinn Healthcare S.A. v. Teva Pharmaceuticals USA, Inc.; the award of attorneys'
fees under the Lanham Act in Booking.com B.V. v. The United States Patent and Trademark Office, and whether
damages awards for infringement should include foreign lost profits in WesternGeco LLC v. ION Geophysical Corp.

I am proud to be a member of AIPLA and during this past year I came to appreciate just how diverse AIPLA is and
to recognize how that diversity creates organizational strength. For example, our Board of Directors reflects the
diversity of our IP focus, our geographic focus and the different industries that are represented by this organization.
Our Board is a reflection of our membership and this diversity lends itself to robust conversations at the board level
and results in sound positions for our organization.
I would like to thank our staff. Over the course of this year I saw first-hand their dedication and care for AIPLA. They help to make our educational programming, our travel, our advocacy, our member support and global outreach a reality – all of which helps to define AIPLA as one of the premier intellectual property organizations in the world.
But it is you who are so critical to this organization. It is your attendance at meetings, at our roadshows, as members
of our international delegations and it is you who influences the direction of IP Law. It is you who brings forward
issues through our committee system. Those committees are the backbone of this organization. In fact, almost every
position this association takes is individually vetted through one or more of our robust committees. Those positions
drive critical change in intellectual property law and allow us to have a voice that is heard in the US court system,
in our government agencies and in the international community. To our membership in general then, I say keep us
strong and please participate. Make a difference to this organization. We want your voice to be heard. If you are
not yet a member of a committee, please ask us how to join a committee. I thank each and every one of you for your
presence at AIPLA and I challenge you to get more involved and make a difference in your profession.

As you look through the Annual Report, I hope you come away impressed, proud, and delighted at all the
great work AIPLA has done and continues to do, all in service to you, our members.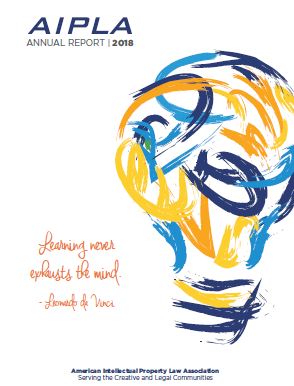 ________________________
Earlier Annual Reports