Registration and General Information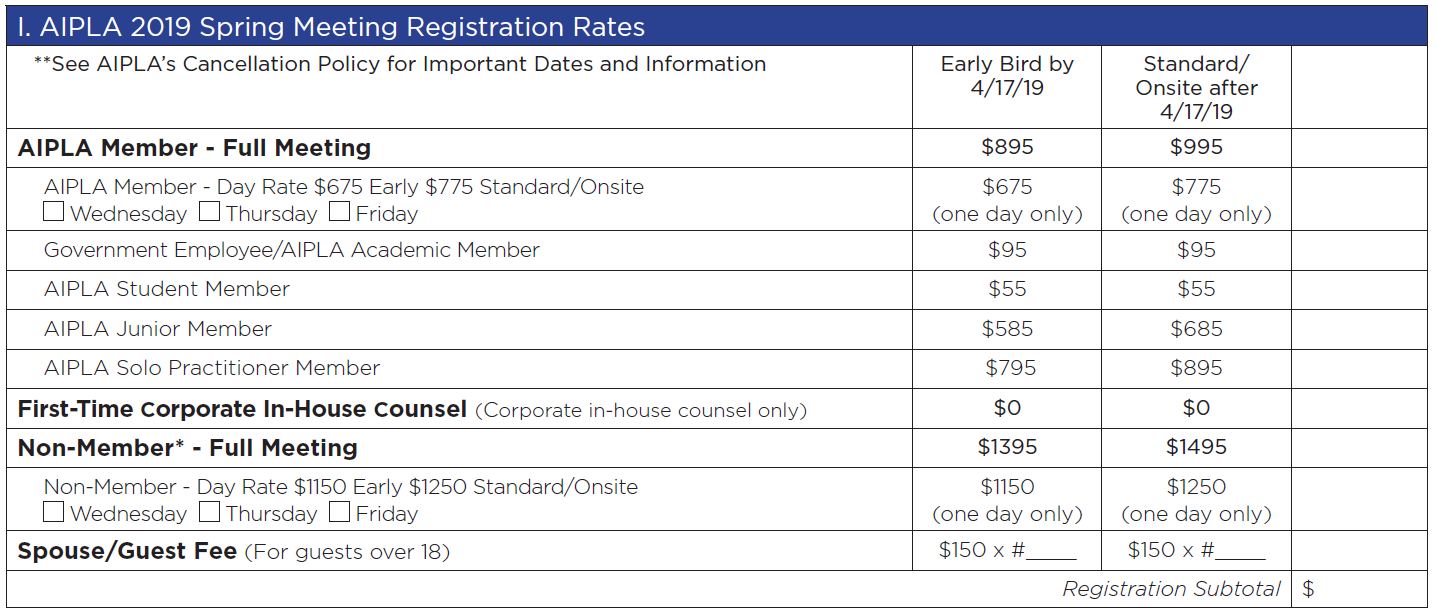 1. Hotel Rates and Cut-off Dates:
Loews Philadelphia Hotel
200 Market Street, Philadelphia, PA 19107
1-888-575-6397
Located in the nation's first skyscraper, Loews Philadelphia Hotel combines living history warm sophistication, and is in the heart of City Center, steps away from attractions.
Group rate for single/double rooms is: $209 per night plus applicable taxes
This rate is available three days pre and post meeting dates based on availability. The hotel reservation CUT-OFF DATE is April 22, 2019, so be sure to book early.
Ask for the AIPLA 2019 Spring Meeting rate, or book online at
Register by May 1, 2019 to be included on the attendee list. On-site registrations will be accepted; however, please be prepared to pay by check or credit card, as we do not invoice for fees. Attendees must register for the meting if they wish to register for or attend social events. Badges are REQUIRED at all sessions and social events.
3. Submitting your registration:
ONLINE: You should receive an email confirmation shortly after you complete the process. Please keep this confirmation for your records. www.aipla.org
FAX: Faxed registrations must contain credit card information, signature of the cardholder, and expiration date. AIPLA fax number: 703-415-0786 (for registrations only). DO NOT FAX REGISTRATION AND THEN MAIL A COPY. IT MAY BE PROCESSED TWICE AND YOU MAY BE BILLED TWICE.
MAIL: Mail registrations to:
AIPLA
1400 Crystal Drive, Suite 600
Arlington, VA 22202.

International Registrations:
If you submit a registration via fax with credit card payment, do not send a "confirmation copy" via mail as it may be processed twice, and you may be billed twice. If you are paying by check, please mail your registration. You may fax 703-415-0786 a copy of your check and registration to account for possible foreign mail delay. Payment for meeting registration must be in US currency.

4. Spouses and Accompanying Guests Registration:
Guests over 18 pay a guest fee of $150. There are many opportunities for your spouse or guest to join you throughout the meeting, as well as network with and get to know the other spouses and guests attending the meeting.

The Guest fees include a guest badge and access to all Non-ticketed events, including: the continental breakfasts, luncheon receptions, morning and afternoon breaks, and access to a special hospitality suite open during the posted meeting registration hours and stocked with beverages and snacks.

This fee is intended for spouses and guests attending the Spring Meeting who are not eligible for AIPLA membership or who would not otherwise attend the meeting for CLE purposes. This guest fee is not available in lieu of paying the registration fee for vendors requesting more than the allotted number of exhibitor badges. Individuals registered as "GUESTS" will NOT be eligible to receive CLE credit.

5. Purchasing Event Tickets (in advance and on-site):

Events may sell out. Tickets on-site are sold on an "as available" basis. Tickets will be collected at all food functions and the spouse/guest tours. If you do not arrive at the event within the first 30 minutes of the start time of the event, you are not guaranteed a seat.

6. Returned Check and Credit Card Fees:
Registrations received that result in a returned check or contain incomplete credit card information, including omitted signature, omitted expiration date, wrong number sequences, etc., will be charged a $35 fee for each instance.
Cancel by May 1, 2019 and receive a refund less a $50 processing fee.
Cancel between May 2 - 8, 2019 and receive a refund less a $250 processing fee.
No refunds issued after close of business May 8, 2019.
Cancellations must be made in writing. Please mail or fax — 703-415-0786 — your cancellation in writing to AIPLA, 1400 Crystal Drive, Suite 600, Arlington, VA 22202. Any refunds will be processed after the meeting.
CAUTION: If you duplicate your registration with AIPLA, it is your responsibility to notify AIPLA in writing after the meeting and request a refund. No refunds will be given at the meeting site.

8. Registration Transfer:
Registrants may transfer their registration based on the following:
Members may transfer their registration to other members.

Non-members may transfer their registration to other non-members.

A transfer from a member to a non-member will incur an additional fee equal to the difference in registration rates.

9. Photographs and Video:
There will be photographs and video taken throughout AIPLA's 2019 Spring Meeting that will be used in AIPLA print and electronic publications, including AIPLA's website.