AIPLA 2021 Spring Meeting Goes Virtual
March 9, 2021. As we all continue to try and find a new normal with the pandemic, and given the current state of things we find ourselves in the position again of hosting the Spring Conference virtually!

Almost one year later, we have been able to successfully host the 2020 Spring and 2020 Annual Meetings as well as the 2021 Mid-Winter Institute as virtual conferences, each offering a unique set of educational contect and focus, and each with creative solutions that bring AIPLA members together from all over the world. The Professional Programs Committee has designed a unique program focused on the current challenges in the IP system.
In addition to those programs, we are developing creative online networking events, informal meet-ups to discuss programs, and the ability to arrange one-on-one connections with meeting attendees.

AIPLA continues to look for ways to support you and provide you effective and rewarding ways to connect with your colleagues and friends in the AIPLA community during this unusual and challenging time. Look for our upcoming virtual events, webinars, committee conference calls, and other virtual meetings to stay connected and up-to-date on IP law and practice.

Please let us know if you have ideas for activities, virtual meetings or other events with members of the AIPLA community that could deepen our support of and ties with each other. As we have already shown through this pandemic, I am confident that we can continue to find ways to strengthen the AIPLA community we share.

Thank you for your continued support of the Association and of each other as we face these professional and personal challenges together.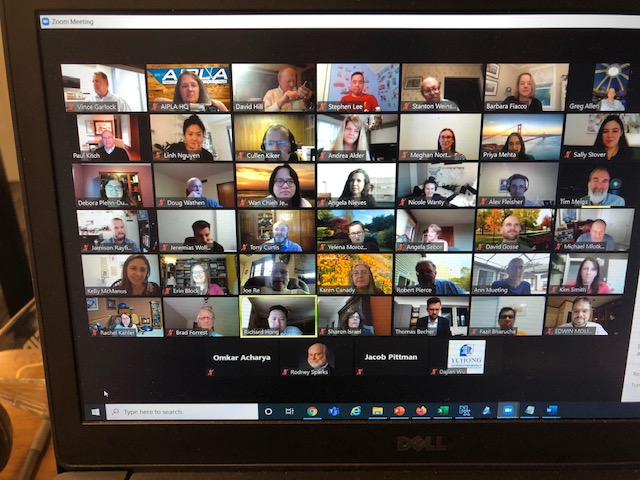 Hear from the Thought-Leaders
Our speakers are proven IP leaders, strategists, practitioners and peers. Many of them are judges; others are well-respected industry leaders who know what you need to know. Our selection process for speakers is as rigorous as you'll find anywhere, and we make sure that you're hearing from the best.

Learn Skills and Stay Up-To-Date
No matter how long you've been practicing or what position you hold at your firm, chances are there is still something you need to learn. Trends, new strategies, and innovations in IP law happen all the time; to stay up-to-date you need an educational opportunity that provides you with the full range of knowledge.

Your attendance earns you credits toward your mandatory continuing legal education (MCLE).

Have Fun with Your Peers from Around the World
We know you've heard it all before, but networking is a huge part of your professional success. When you meet with your peers, you have an opportunity to collaborate, hear new ideas, and validate or change your perspectives. You may hear what others are doing and be inspired to implement something similar - or you could even hear another idea and realize you're already on the right track! You can find a mentor or become one, and even make connections to help you further your own career.

2021 Virtual Spring Meeting Navigation