Our virtual event features the keynote speakers, informative sessions, and collaboration opportunities that you've come to expect from an AIPLA Annual Meeting. This innovative and timely program is designed to inspire and engage a global audience. You will have access to the experts as you learn about the latest in IP law.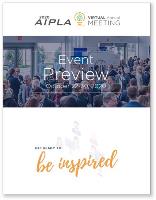 View the Virtual Meeting Preview (as of 9-21-20).
All times listed are Eastern Daylight Time. Need help matching with your time zone? Try the Time Zone Converter: https://www.thetimezoneconverter.com/
States vary in the overall amount of CLE they will accept through electronic delivery. Virtual meeting sessions run either 60 or 90 minutes, and CLE credit will vary based on each state's regulations and credit calculation method.
AIPLA is a pre-approved CLE provider with the following states: Alaska, California, New Hampshire, New Mexico, New York, Pennsylvania, Vermont.
AIPLA has applied for CLE accreditation in the following states: Alabama, Florida, Illinois, Indiana, Minnesota, Ohio, Tennessee, Texas, Virginia, Washington.
For information on CLE accreditation in all other states, please contact our CLE Department at dfields@aipla.org. CLE credit may be available, but will require additional time for approval and COA delivery.
For additional information on sponsorship and exhibiting at our 2020 Virtual Annual Meeting please contact:
At-a-Glance
Monday, October 19
Wednesday, October 21
Thursday, October 22
Friday, October 23
Monday, October 26
Tuesday, October 27
Wednesday, October 28
Thursday, October 29
Friday, October 30