AIPLA's President Report
Sheldon Klein
AIPLA President, 2018-2019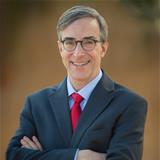 Sheldon Klein begins his year as AIPLA President when Myra McCormack relinquishes the role. He is an unusual President for AIPLA: he has a trademark background.
Klein estimates he is only the third President from the trademark side, and possibly the first not to be a registered patent agent or patent lawyer. "It has made it interesting to get involved in and learn about patent issues over the years that I otherwise wouldn't know of. They don't come up in my practice," he says.
The Gray Plant Mooty principal has been involved with AIPLA for about 30 years. He has chaired four different trademark- focused committees in that time, and also served as Chair of AIPLA Fellows and spent four years on the Board. "One thing that attracted me to AIPLA was that it was very patent heavy back then, and a bit light on trademark and copyright content. I felt I could make a difference in helping move the Association into the broader sense of IP."
Klein is looking forward to continuing to work with and lead "a very talented, highly talented Board of Directors and Executive Committee". He says: "I always learn something from the high level of discourse that takes place at our meetings. We consider issues that can often have a significant impact on intellectual property law and practice. I'm also looking forward to representing AIPLA's views before Congress, the PTO, the Copyright Office, other agencies and of course the courts. For example, we do fantastic work on amicus briefs." He has some experience with that, having worked on AIPLA's amicus brief in In re Tam.
Klein is already driving a new development. "I'm very excited about our new special Committee on Privacy and Data Security, which I will take credit for thinking about and pushing. It's going to bring together experts and anyone interested in privacy and data security to focus on the laws, rules, practices and judicial decisions relating to this area of the law."
The committee was formally established a few weeks ago, and had its inaugural meeting on Thursday afternoon. The launch is certainly timely with the General Data Protection Regulation coming into effect in Europe earlier this year. "These issues have become prominent for our members with the GDPR and, in 2019, we will have the California Consumer Privacy Act. I think it's pretty clear that in the US there are going to be discussions at the federal level to enhance protection."
He adds: "Not everybody immediately thinks of privacy as a branch of intellectual property. But there's no question that intellectual property lawyers need to know about the law and keep abreast of developments. Our clients are asking us about it."
Klein will also be looking to make the most of the AIPLA Fellows, which is comprised of many of the more senior members of the Association. "These people are a tremendous asset, and they are interested in becoming involved in mentoring our younger members. They already do, but I would like to see us continue to tap into that resource in a more meaningful way in the future."
Klein has also been working with McCormack to ensure a smooth transition from her Presidency to his. "Myra and I have talked a lot about the need for continuity and the fact that some of these projects that we'd like to undertake require more than one year, whether they're studies or active ideas within the Association. You can't do it all in one year. Just take the years-long effort that we've had on patentable subject matter. Myra has begun or continued some initiatives that are very important for the Association, and I want to continue those. One of them is to actively recruit, encourage and involve the younger, more diverse members, while at the same time maintaining and increasing our value for all members."
Klein has been in private practice his whole career. "IP law has been very good to me," he says. "It's just a fascinating area of law that I feel very fortunate to have initially stumbled into."